Castle Studio Stained Glass was founded in 1992 in the Philadelphia area by Randall Claggett. As a young artist, stained glass spoke to him as his medium of choice. Today, with close to 25 years of experience in the field, Randall works with numerous residential and commercial clients, but the bulk of his work involves places of worship. He is also a master glass painter with over 20 years of experience in glass painting, specializing in the German and French old-world styles.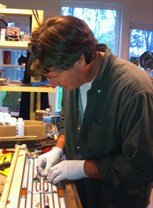 When it comes to designing new windows, Castle Studio works one-on-one with each client to choose the best direction given their style preferences, the space, and the subject matter or theme of the window. We use an array of techniques to achieve the finished product including acid-etching, sandblasting, glass painting, gilding and staining, as well as plating layers of different glass. When the design permits, we also use special inclusions like handmade rondels, jewels, and bevels in an attempt to tastefully upgrade the charm and sparkle of the new piece of art glass.
With all stained glass restoration and conservation projects, we consider it our responsibility to treat any window in our care with the greatest of respect. We know that it is of the utmost importance to use only the highest craftsmanship during the restoration process in order to regain the proper structural integrity, and in turn, the original beauty of the window as a work of art. We are dedicated to properly preserving these pieces of history for many generations to come.
"For us there can be no details that are unimportant; there can be no art without a craft."
— John La Farge