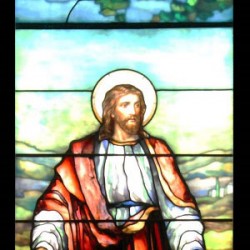 Stained Glass Lighting Solution Projects
Castle Studio recently completed a project at Abington Presbyterian Church, in Abington, Pennsylvania.  The church had two existing stained glass windows in the front of the church that were in areas with no interior light sources.  While the windows could be viewed from the outside during the daytime, at night the windows appeared dark.  To enhance the beauty of the church, they requested a lighting solutions for the windows that would allow them to be seen outside the church at night.
Castle solved their issue by installing low-wattage LED light panels behind the windows, enabling them to be viewed in all their glory to passersby throughout the night.